About RAYAAN COMMODITIES:
RAYAAN COMMODITIES provide a wide range of services to a substantial and diversified client base that includes corporations, financial institutions, NBFTs, governments and high-net-worth individuals. As an investment arm of Arif Habib Group founded in 1973, the firm is based in Karachi.
Leaders in commodity market research, corporate advisory, corporate & retail investment management, business consulting and commodity brokerage services as Corporate member of Paksitan Mercantile Exchange, RAYAAN COMMODITIES, with a professional team provides premier services for investors with round the clock market leading research and advisory services.
RAYAAN COMMODITIES focuses on various commodities markets from precious metals to tropical soft commodities.
Our aim is to lead as the most trusted commodities broker, investor and investment manager.
Ahsan Mehanti
Director and Chief Executive Officer
Leadership Team:
Mr. Ahsan Mehanti is Managing Director / CEO of RAYAAN COMMODITIES engaged in Commodities Investment, Brokerage, Research, Advisory, Investment Management including Spot / Future trading with Pakistan Mercantile Exchange. He is a Certified Director (ICAP) and is also serving as GM & Director of Arif Habib DMCC (UAE). He also Serves as Member Audit Committee and Director with Crescent Textile Mills Limited. He serves on Economic Sector, Best Corporate Awards / CSR Committee of ICAP and Stock Exchanges in Pakistan.
He was designated as Director (Executive Vice President) at MCB Arif Habib Savings & Investments Limited (one of the Largest Private Sector Asset Management Company). He has worked on senior positions with Ernst & Young, Price Water House Coopers, CEO at a premier stock brokerage firm and Central Depository Company of Pakistan. He also held position as Chairman Audit Committee & Non-Executive Director on board of Rozgar MicroFinance Bank Limited (Investment arm of Arif Habib Corporation, Summit Bank and National Investment Trust Ltd.)
By profession, Mr. Ahsan Mehanti is a Chartered Accountant. He is member of the Institute of Chartered Accountants of Pakistan, Institute of Chartered Accountants of England & Wales, Institute of Chartered Accountants of Australia, Chartered Securities & Investment Institute (UK), CPA Australia, Chartered Institute of Management Accountants (UK) & the CFA Institute (USA).
Executives Committee:
Mr. Zia ur Rehman, CFO & Company Secretary
Mr. Akber Suleman, Head of Operations
Mr. Sarwar Khan, Head of Risk and Compliance
Mr. Nouman Islam, Head of IT
Mr. Fahad, Head of Marketing
Mr. Abdul Hameed, Head of Administration
Corporate Vision:

To Lead As Top Commodity Broker of Pakistan Mercantile Exchange

Corporate Mission:

Provide Best Client Services and Strive For Stakeholders Best Interests

Corporate Core Values:
Quality Services
Integrity
Excellence
Innovation
Strategic Goals:
Satisfactory Client Services
Quality Services at Low Pricing
Corporate Accountability
Develop Largest Client Base
Develop Effective Hr , Financial Management, Marketing And Research Team
Organogram: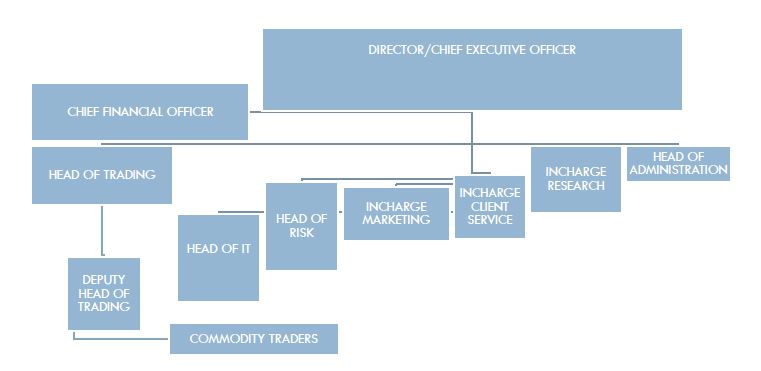 Business Standard:
Our experience shows that if we serve our clients well, our own success will follow;
We are dedicated to complying fully with the letter and spirit of the laws, rules and ethical principles that govern us. Our continued success depends upon unswerving adherence to this standard.
Profitability is critical to achieving superior returns, building our capital, and attracting and keeping our best people. Significant employee stock ownership aligns the interests of our employees and our shareholders.
We have an uncompromising determination to achieve excellence in everything we undertake. Though we may be involved in a wide variety and heavy volume of activity, we would, if it came to a choice, rather be best than biggest.
We constantly strive to find a better solution to a client's problems. We pride ourselves on having pioneered many of the practices and techniques that have become standard in the industry.
We select our people one by one. In a service business, we know that without the best people, we cannot be the best firm.
Our men and women reflect the diversity of the communities and cultures in which we operate. We attract, retain and motivate people from many backgrounds and perspectives. Being diverse is not optional; it is what we must be.
We have no room for those who put their personal interests ahead of the interests of the firm and its clients.
Dedication and intense effort is important part of our success.
We want to be big enough to undertake the largest project that any of our clients could contemplate, yet small enough to maintain the loyalty, the intimacy and the esprit de corps that we all treasure and that contribute greatly to our success.
We know that the world of finance will not stand still and that complacency can lead to extinction.
To breach a confidence or to use confidential information improperly or carelessly would be unthinkable.
We believe to be fairly competitors and must never denigrate other firms.
We expect our people to maintain high ethical standards in everything they do, both in their work for the firm and in their personal lives.